On the Brusselsesteenweg in Overijse, Silvia Persico added her name to the honours board of De Brabantse Pijl. She made it after a wet sprint ahead of Demi Vollering and Liane Lippert.
At around 10:50 and under a weak April sun, the women started their 6th edition of De Brabantse Pijl in Lennik. On the menu was a 141.2 km ride to Overijse with a finale of 3 local laps, each with climbs of: Hagaard, Hertstraat, Moskesstraat, Holstheide and then the S-bocht.
It was not long before the first attack of the day took place. After 8 km of racing, Italian Alice Palazzi (Top Girls Fassa Bortolo) accelerated away. She was joined just under 10 km later by Lauren Stephens (EF Education - Tibco - SVB). At 114 km from the finish line, their story was over and after one hour of racing the riders had covered 40.7 km.
Among others, Burlova (Lotto Dstny Ladies) and Bex (Duolar - Chevalmeire) attempted to get away, but without success. With 84 km to go, Novolodskaia (Lifeplus Wahoo) did get away. Barely 10 km further, at the top of Moskesstraat for the first time, she was caught by the peloton.
The women crossed the finish line in Overijse for the first time in a group. Along the way, breakaway attempts continued to be made, but even with the second passage in Overijse the peloton was still mostly together. The third time up the Moskesstraat, under the impetus of Lippert (Movistar Team Women), did help to thin out the field. On the long tail of the Holsheide, it was the turn of Vollering (SD Worx) to shake the tree, resulting in another thinning.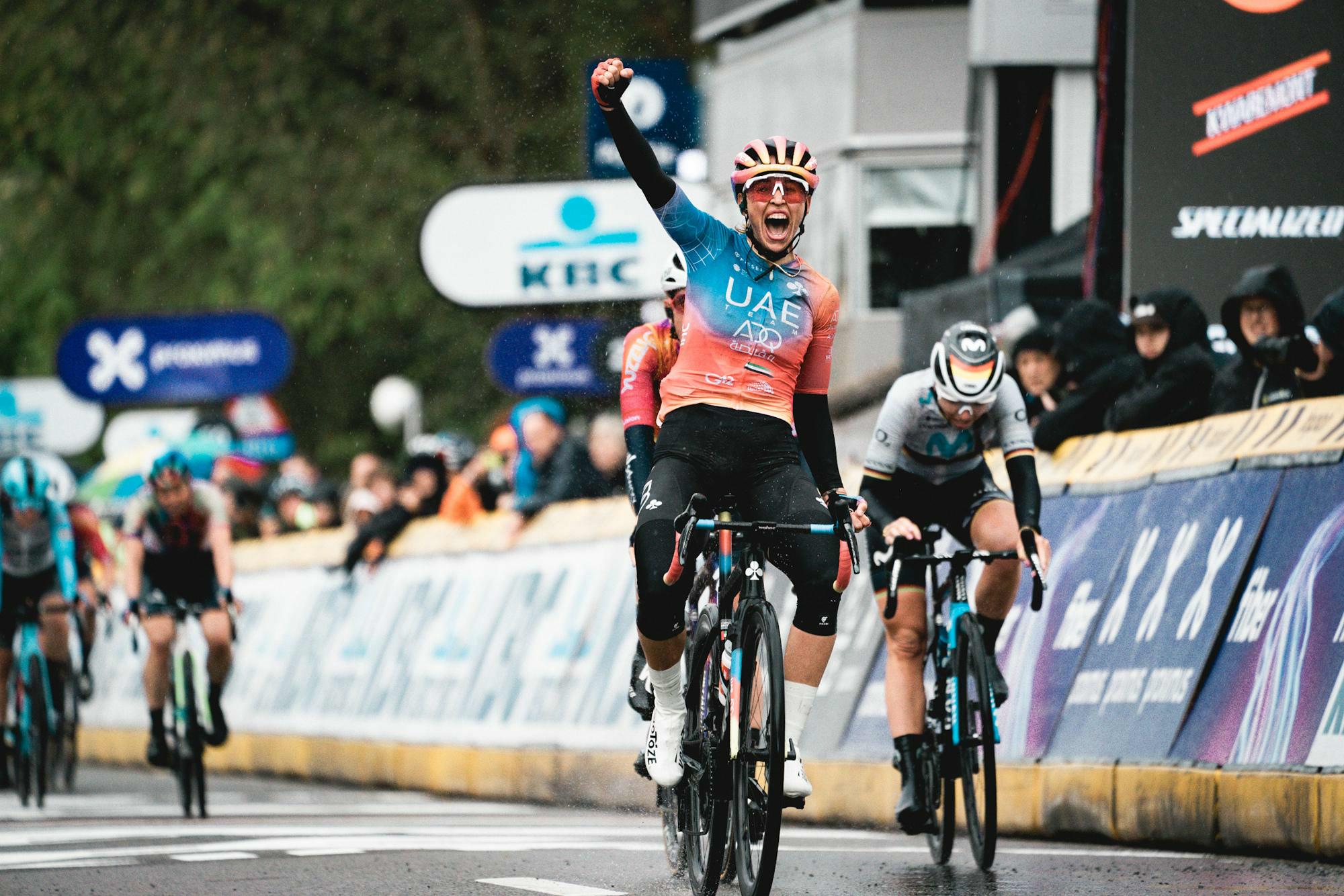 A group including the most important big names started the decisive and final round in Overijse. We had to wait until the last 16 km for the decisive acceleration when Reusser (SD Worx) took charge on the last climb of the Hertstraat. At the top, a group of 5 riders formed: Persico (UAE Team ADQ), Vanpachtenbeke (Parkhotel Valkenburg), Reusser (SD Worx), Van Anrooij (Trek – Segafredo) and Chabbey (Canyon//SRAM Racing).
With a lead of 20 seconds, the 5 started on the final passage on the Moskesstraat. Behind them, it was Vollering who set off in search of the leading group with Lippert on her wheel. First, they picked up Vanpachtenbeke and at the top of the Holstheide and with 7 km to go they joined up with the group at the front. This group of 7 then rode to the finish on the Brusselsesteenweg. On the S-bocht, Reusser was setting the pace, which was the signal for Vollering to start sprinting. Persico came out of the wheel and sprinted to her first classic success. Vollering came second and Lippert stranded in third place just as she did last year.